So I may not have been one of the Medifast "Happy After" winners and get a makeover, shopping spree and photo shoot.... BUT I got something better: SUPER COOL friends in my life!! What could possibly have more value than that? :)
Speaking of one SUPER COOL friend, she arranged and then took me to her SUPER COOL sis-in-laws home (which is an hour away) and they gave me a MAKEOVER yesterday! This is my first makeover ever! How totally amazing is that? This incredible woman has a gift and talent for style and beauty. She knows how to take a person and bring out their best features. She has 6 kids of her own and just looks fabulous.
First, she put some brown back in my hair which is my original color, and then she painted my toenails, which is the 2nd time in my life I've ever had them painted! How sweet was that? I loved it!
Then she added some carmel highlights to my hair. And the she CUT it, and layered it, and styled it.
Then she put make up on me. I haven't worn make up consistently since my last daughter was born... over 14 years ago and a lot has changed since then. I was actually taking notes to learn as much as I could. I got so much wonderful information.
She told me before I saw my finished self, that it may be shocking to see myself in makeup, but that I don't look like a clown and that it looks good. So for a split second, I pictured myself in clown makeup with the white face and outlined mouth in red and big poofy colored wig... and almost laughed. Just a little Margene humor.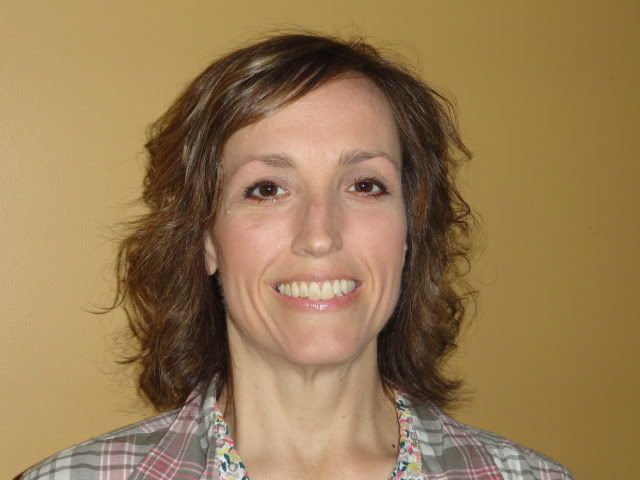 And then... voila! I did NOT recognize myself! It was quite surreal because it was really like looking at a picture of someone else. The person didn't look like she had too much makeup but being that it was ME... it felt like I was wearing a lot. My eyes just seem to pop out! I was so overwhelmed. I felt so pretty!
My friends were trying to read me to see if I liked it, but I seriously was overcome and did not know how to respond. I felt so humbled and so thankful... and unworthy (I know I shouldn't say that word, but it's how I felt) of their time and attention and efforts on my behalf. These women both have several children and busy homes and yet they took several hours out of their day just for me.
With the last few minutes, she had my try on some of her pants and tops and gave me some tips on clothes I can look for that would accentuate my positive features. It was very cool. She had these pants with a big belt and I actually tucked in my shirt (which I NEVER do) and it wasn't half bad! Too much fun! I would LOVE to go shopping with her as I know nothing about what really looks good.
She is on a very tight budget but 3 things she feels are worth investing more money in are 1. Good bra, 2. Good shoes, and 3. Good Make up (she told me about Bare Minerals). Awesome clothes can be found at thrift stores if you know what to look for. And it's okay to look your best. It doesn't mean your vain. You look your best and take care of yourself so that you can serve your family and those around you and feel confident.
Here is an interesting comparison from me at Christmas in 2009, and me just yesterday (a year and half later). Is this really the same person? I still feel like the gal on the left inside... but I'm daring to be that more confident woman on the right!
When I got home, my 10 year old did not recognize me and even acted a little scared or freaked out. I don't know if this is a good thing or not but it was funny! My daughters, on the other hand were way more enthusiastic. I just hope Brent doesn't check out this blog until he comes home on the 19th for the weekend... I CAN'T WAIT to see HIM!!! What will HE THINK? Life is Good!!