It's been two weeks since I last posted and it feels like months! I write from a new place. A new home, new state, new climate, a new outlook... but before I share that, I'll rewind just a week ago today when Brent flew into Oregon.
We knew with our move that our work was cut out for us, so we snuck out to the midnight showing of the last Harry Potter movie! It did not disappoint!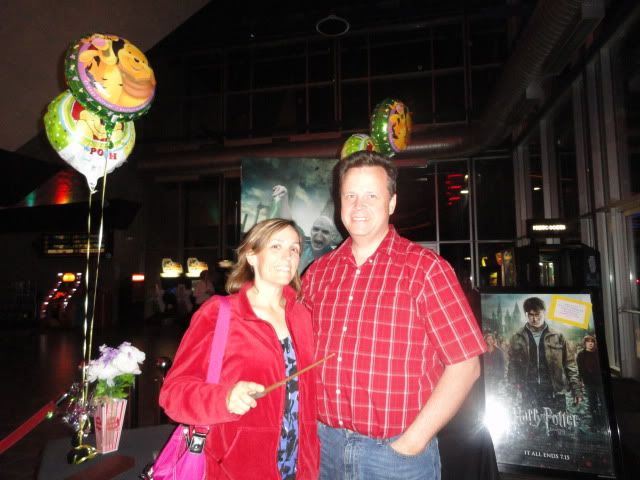 Then the next two days we spent loading and preparing to move. Not to brag... but... I had everything boxed and even all the shelving in our garage taken down and ready for my man to load. I was aiming to impress and I did! We hoped to fit everything into the biggest moving van we could get, and much to our disappointment it did NOT fit. So I ran off to rent a trailer to tow behind our suburban and then our stuff still did NOT fit. So we packed our suburban full tilt and still we had to leave stuff behind and just give it away. Be the end of Saturday night, I was too exhausted to even feel emotional about it. I left my Dyson vacuum! (I made such a fuss just to get one a few years ago). Drat.
Okay... moving on (no pun intended)... after a glorious nights sleeps at our friends home - who had our whole family over for a dinner and relaxing sleep - we left the next evening after last minute details and attending church. So we drove away from our church parking lot with some of our kid's friends waving us farewell. What an epic way to leave!
Brent drove that huge moving truck and I followed in our suburban towing the trailer. Every time he swerved, I was calling him on the cell phone asking him if he was fully awake! I got a little paranoid... oops! We stopped only for gas and restroom and to down our 5-hour energy drink.
I went through a whole box of tissues on the way as I felt myself getting sick. It helped that we (my daughter & I) listened to the Dramatized New Testament on CD the whole way - which was awesome. We made it to our new home in 16 hours - and on my 43rd birthday. Happy Birthday Me! BTW - our new home is in UTAH (sorry I didn't include that before:)
We've moved 11 times in our 22 years of marriage... and this was our hardest move ever. But having said that, this was also the move that I have been up for the most physically! I even surprised myself that I didn't run out of energy and could last for as long as I did and do as much as I did! I know it's having that weight off that has made the difference. I am SO thankful for that.
Every day so far, after unpacking and cleaning, I go out for a bike ride and I am just loving the little paths I'm finding. There isn't the green tree's and foliage from Oregon, but there are amazing mountains and dirt pathways and jumps to explore. Very cool! It's a new start and a new life... and we are finally together as a family again! Check out this view from last night looking out from my garage. Amazing!
My list of "to do" things is still huge and the work to do is overwhelming. I also miss Oregon and our friends there so much! It's so much harder to say goodbye and leave for me... it really tears at my heart. I think I am built differently that way. It feels like we are already long forgotten! I know the past is just a memory and the future is not here yet, but the present is a gift, that's why it's called the present. So I am enjoying the present! And being with Brent and my oldest son again is the best! Life is good!