It's going to be an eventful, fun, exciting, and a little heartbreaking weekend!
First of all, there is a "Beach Retreat" this weekend with the ladies from my church. I am really looking forward to it. The second night of the retreat, Brent will be bringing the family and we will stay as a family that night. Then on Sunday, we'll head to church and then straight to the airport where Brent will be flying to Utah to start his job on Monday. Am I the only one who thinks that is crazy? I choose not to face Brent leaving yet and I am concentrating on the Beach Retreat.
You see, there is going to be LOTS of junk food there. Here is the picture from the last retreat in 2009: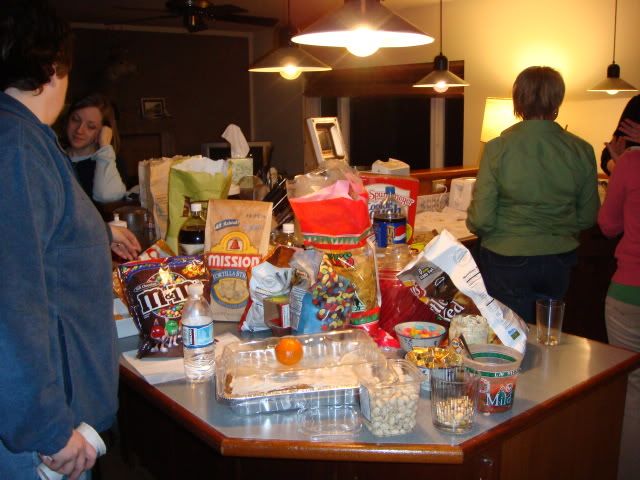 I am 5 pounds from goal right now. What would you do if you faced a table of food like that - AND you hadn't eaten anything like that for over a year? Would you feel entitled? Would you feel that you earned a little break? Would you feel like you could help yourself to celebrate your 140 lbs of weight loss?
Honestly, I have NOT allowed myself to think that while I've been in "weight loss" mode because I am all or nothing here. So I have got to BE STRONG and NOT GIVE IN to that food. I will probably be the ONLY ONE out of over 30 women, who will be trying to NOT eat junky, fattening, and sugary snacks. I've done this before, but it does get tiring to be the ONLY ONE, ya know! I want a bestie!!! I want a friend who will stand by me and relate to me!! I feel so alone sometimes!! (okay, now back to my post...)
BUT - It certainly has paid off and it WILL pay off when I reach goal and enter the Medifast "Happy Afters" contest. I cannot tell you how badly I really want to win (there will be 10 winners). It would be the coolest thing ever!! I am trying not to get too excited or think about it because it will make my disappointment so huge if I don't win. That's a set back for being as intense and "all or nothing" as I am... huge highs and huge lows!
So my plan at the beach is to have my medifast food and lean and green food available and then LOTS of my sugar free knox blox! I made several batches. I've got:
1. Strawberry / Banana / Coconut knox blox
2. Raspberry knox blox
3. Orange / Mango / Coconut knox blox
4. Cherry / Licorice knox blox
I will bring them and share and focus on games and NOT food. Weigh in is Saturday... maybe I should bring my scale? Oh, and guess what? There is a HOT TUB there. I am so excited to sit in it because I've been so cold and dreaming of that. So of course, I had to go get a new swim suit. The last new suite I got was back in October - size 16. Guess what size I fit into now? Size 8-10!! Oh my gosh...is that crazy or what?
Seriously... if I had money right now, I could totally become a major shop-a-holic... because now I actually CAN shop in the normal stores. I still freak out and feel like I'm in a dream state. Surely everyone around me will get tired of me and how this is all so new to me. Life is just so dramatically different and it's so good!! I want everyone who is suffering w/ weight health-issues and pains - and especially morbid obesity like I have to feel this much better!! Life can be so much better and it's so good! XOXOxo ~Margene